July 2019 Alexa Website Traffic Rankings
https://www.collegewebsites.ac.uk/latest-data-reports/july-2019-alexa-rankings

All Colleges should want their websites to be ranked in the UK top 50,000. Over the last 32 months of monthly monitoring the top quartile is. There is a slight correlation with budgets but too mild to explain the cause of some Colleges attract more new and returning site visitors, and therefore more students and commercial clients than other Colleges.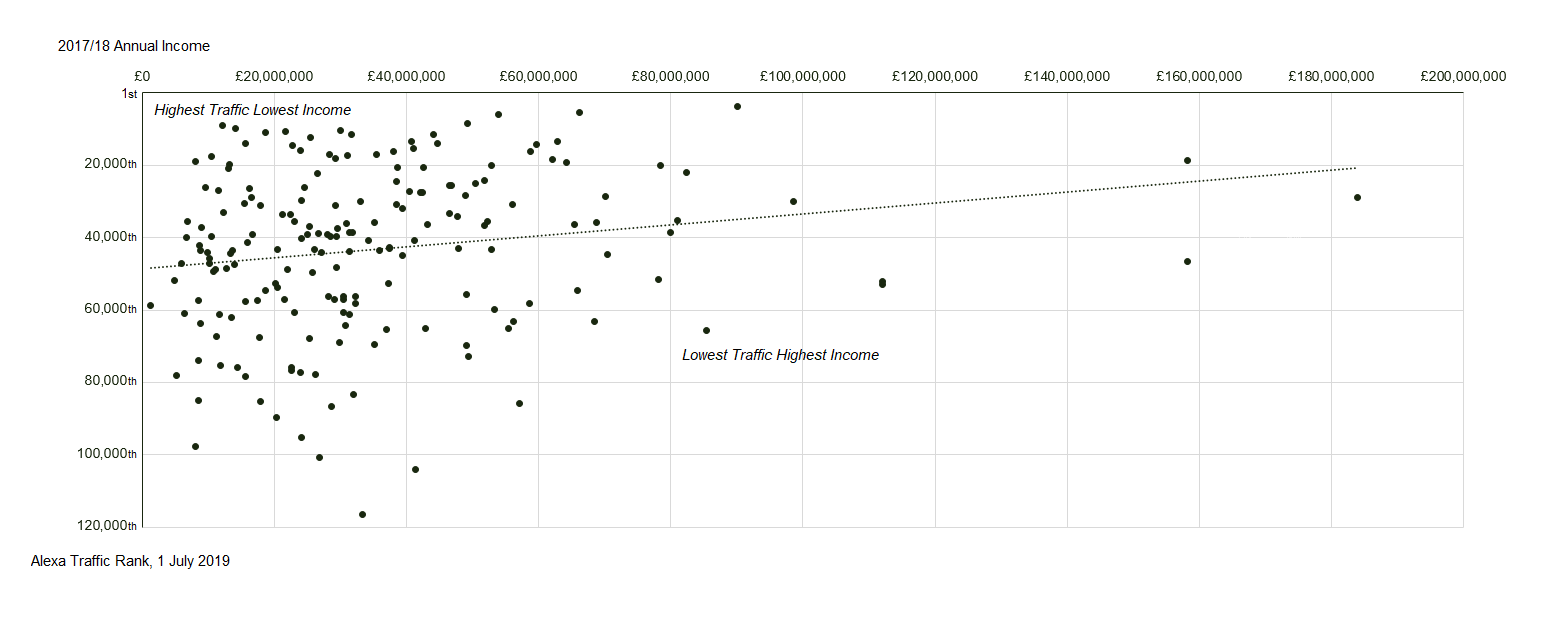 ▲ Of 188 College Websites with UK Traffic Data the trend line's shallow incline shows a slight performance correlation with 2017/18 Income level.
There are many blog posts that answer the question of increasing site traffic generally, but specialised guidance is unhelpfully just as generalised:
"Incorporate Social … Be Different"
The easiest and, I argue, the most important method of increasing volume of College website traffic is to simply increase the frequency of current students accessing the College VLE from the website. It seems like artificial inflation but doesn't retention of current students on next level courses happens through the website application process?
I also suggest that the sections on the enrichment offer and student support service provide participation and engagement portals on the website.
Finally, I suggest starting a new community outreach programme offering free intermediate and advanced digital skills classes and open workshops. This offer would include an embedded booking system preferably Eventbrite for the wider public profile. It turns out "Incorporate Social … Be Different" isn't such bad advice after all, and that taking a lead and facilitating public forums really does work.
Here's Why
Digital performance is best and most quickly optimised by broadening digital skills. Managers, faculty members, support staff, agency staff and students all having greater knowledge about the development of digital platforms, authoring expert content and testing site and content performance is critically important. More broadly, supporting the wider community to build new social, commercial, cultural and political enterprise websites is great for increasing site traffic.
I have met thousands of adults with widely diverse experiences, backgrounds and traditions that have all wanted a website but lack basic digital knowledge and have been burnt by website service providers. All have found that meeting and working mutually on resolving issues and developing their offers has had the greatest benefit. Many of them are active digital and word of mouth advocates on behalf of the public forum and its organisers, as well as having ambition and capacity to achieve great things. I have met hundreds of students and colleagues that also want to start something new, need to build a destination for their marketing, and find it really useful to meet and to work mutually with fellow students and staff to resolve any issues and to develop their online offers.
---
Virtual Learning Environments (VLE)
https://www.collegewebsites.ac.uk/content-review-samples/vles
This is a big project interrupted by presenting at the University of Liverpool Digital Inclusion Policy & Research Conference on funding Colleges to deliver digital skills training as both an enrichment offer to all students and in open workshops to the wider community.
The results so far reviewing 440 VLEs are that most are in serious need of basic development work. The role digital engagement with current students has in retention, enhancing word of mouth reputation, increasing attendance and improving academic outcomes is, on this metrics particularly, massively undervalued. For a handful of Colleges their VLE does achieve a minimum standard of development but for almost all of them they fail to reach this minimum standard.
It isn't difficult to complete a minimum development project, just see the College VLE you like, or the elements of a couple of VLEs and simply set this as the goal. The low/no cost VLE templates are straightforward to update, low/no cost extensions uploaded and populated, and a graphic designer takes only a couple of days to produce a suite of images and graphics.
---
too many, a blank login is all there is, or a blank Moodle template, or graphics by untrained/unqualified staff (even in Colleges teaching graphic design) and placeholder modules such as empty calendars. Many of the decisions about the VLE were taken years back and nobody has added VLE development on to the agenda and scheduled the time to finish an uncompleted task. Millions of students assume that this is the apex of digital offers, this is what an education provider is able to achieve, can there be any institutions capable of better?
What digital development projects do you want to do? What projects can I be involved in, help to support or take the lead on? How about building a Cvent Student App integrated into ProSolution MIS? Or producing live performance data on departmental dashboards?T
This last part should also be available to current students as part of the enrichment offer and include keyboard shortcuts, cPanel website hosting, Joomla/Drupal CMS website building and extension directories, free online tools and browser plugins, WYSIWYG HTML editing, image editing and file management (PNGs for all of your logos, file titles all SEO every time), Google Search Console, Analytics, and Data Studio.